Sectional Doors
House of Doors has Chicagoland's most complete and extensive line of commercial sectional doors from our nation's largest and most respected door manufacturers. Whether your project is a new automobile agency requiring modern glass and aluminum sectional doors, or a project that requires excellent thermal efficiency, House of Doors is ready to fulfill your requirements.
---
Please select any image below to view additional options.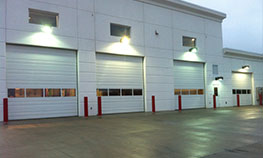 Pan
Most pan doors utilize 24-gauge ribbed steel sections with 16-gauge vertical end stiles and 20-gauge center stiles attached to the interior. The exterior ribbing consists of deep and shallow ribs in each section. The bottom section features a vinyl bulb-shaped astragal, held by a roll-formed, hot-dipped galvanized steel retainer.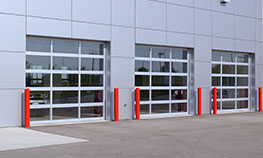 Aluminum Full-View
The perfect choice for architectural applications that require bright light, open visibility and a modern, industrial feel, full-view aluminum and glass garage doors are well-suited for restaurants, service stations, car dealerships, fire stations and trendy commercial retail and office spaces.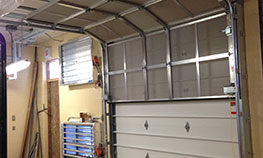 Bug Blocker® Screen
Summer's heat can often drive you to open your overhead loading dock doors, just to keep your employees comfortable and working. But this also provides an open invitation to every bird, bee, mosquito, and rodent in the vicinity. Open dock doors can also lead to the loss of your valuable goods and inventory. If you need a cost-effective way to add security, pest control, and a rodent and bird barrier, along with ventilation to your facility – consider The Bug Blocker® overhead screen door.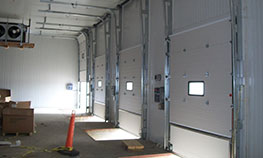 Break-Away Bottom Sections
Bottom panel, 24" or 48" high, capable of breaking away inward and outward a full 110 degrees. It is protected from impact, on the interior side and on the exterior side (optional), with a high-density impact resistant plastic facing.